Mike Neidich, Manager of Sales Division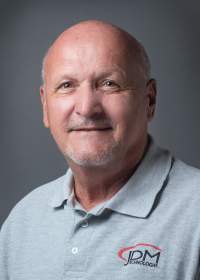 Mike oversees the sales team and leverages his extensive expertise in the industrial power and technology field to support customers' needs.
His interest in electronics developed while serving as an aircraft electrician during the Vietnam War. After his service, Mike installed and serviced electrical equipment at numerous power plants across the country.
He later owned a small company in Pennsylvania where he was responsible for purchasing, sales, and repairs.
Mike and Donna bought a home in Port St. Lucie, FL in the early 1990's after visiting the St. Lucie Nuclear and Vero Beach power plants. In 2003 they decided to move to Florida permanently to escape the cold winters and Mike's injuries due to a near fatal car accident.
Eager to return to the field, he and Donna created JDM Technologies. Mike's passion and commitment to his customers is evident in his contributions to the sales team and their success.
When Mike is not working on a sales proposal, lending his expertise to his teammates, or talking to customers or suppliers, he can usually be found planning a family vacation.
He has always been a family-centered father and very adventurous. Mike enjoys boating, fishing, camping, visiting state and national parks, and traveling in their travel trailer or on a trip abroad.